Consult to Grow®'s Complimentary Restaurant HR Audit
Consult to Grow® is a boutique restaurant strategy firm that advises restaurant owners, founders, operators, and investors on scaling systems, profits, and geography. We bring you 20 years of industry experience with which we help you transform your restaurant business, taking you from surviving to thriving.
10-minutes to take.
10-page custom report.
Download results instantly.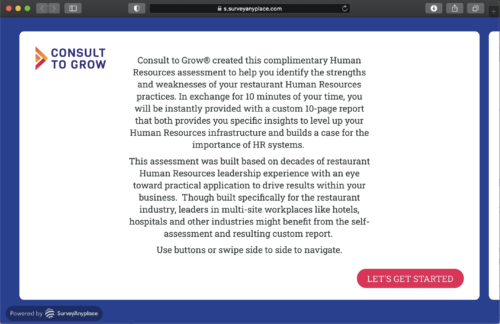 Consult to Grow® created this complimentary HR audit to help you identify the strengths and opportunities of your restaurant HR practices and documentation. In exchange for 10 minutes, you will have instant access to a custom 10-page report that provides you specific insights to level-up your Human Resources infrastructure. The report goes a step further to help you build a custom case for HR in your business.
Restaurant businesses, and the team members they employ, constantly change. Conducting an HR audit or self-assessment allows you to identify whether your people operations are effective and benchmarked to industry-standards. With instant feedback and guidance, your custom report will serve as a useful how-to for next steps.  And, if you ever need our help, feel free to contact us anytime.
Level-up your restaurant People Operations practices to scale & grow.
The HR Audit & Custom Report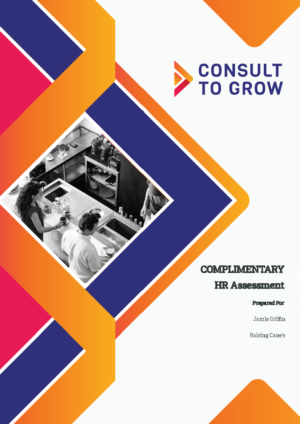 The Consult to Grow® HR audit or self-assessment is composed of 35 questions and will take you about 10 minutes to complete. There are three sets of information questions (information about you and your business) and 32 quick assessment questions on a three point scale: "Say What?," "Needs Work," or "It's Awesome!"
Consult to Grow® offers a comprehensive HR assessment as a consulting service where we review your restaurant Human Resources practices & documentation to provide detailed and prioritized advice to level up your practices and improve operations performance. Contact us any time if you are interested in an experienced outside perspective.
Once you complete the short self-assessment, you will have instant access to a custom 10-page report developed using your specific company data and the responses to the 32 quick assessment questions. This report will also be emailed to the address provided in your response.
As a follow-up, Consult to Grow's founder, Jamie Griffin, would be happy to conduct a free 30-minute call to discuss your results.
If this resource helped you; help us by:
Sharing this page.
Signing for our email list.