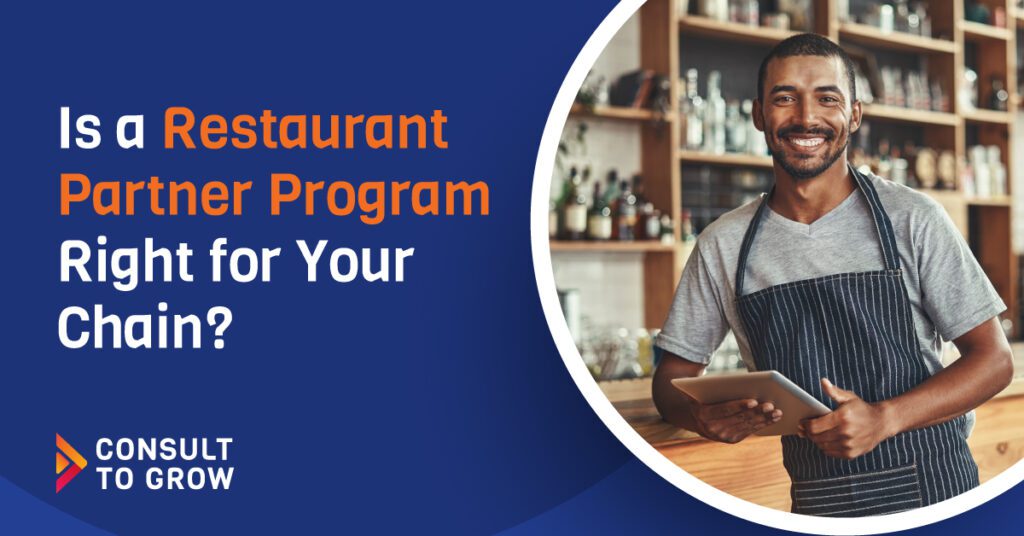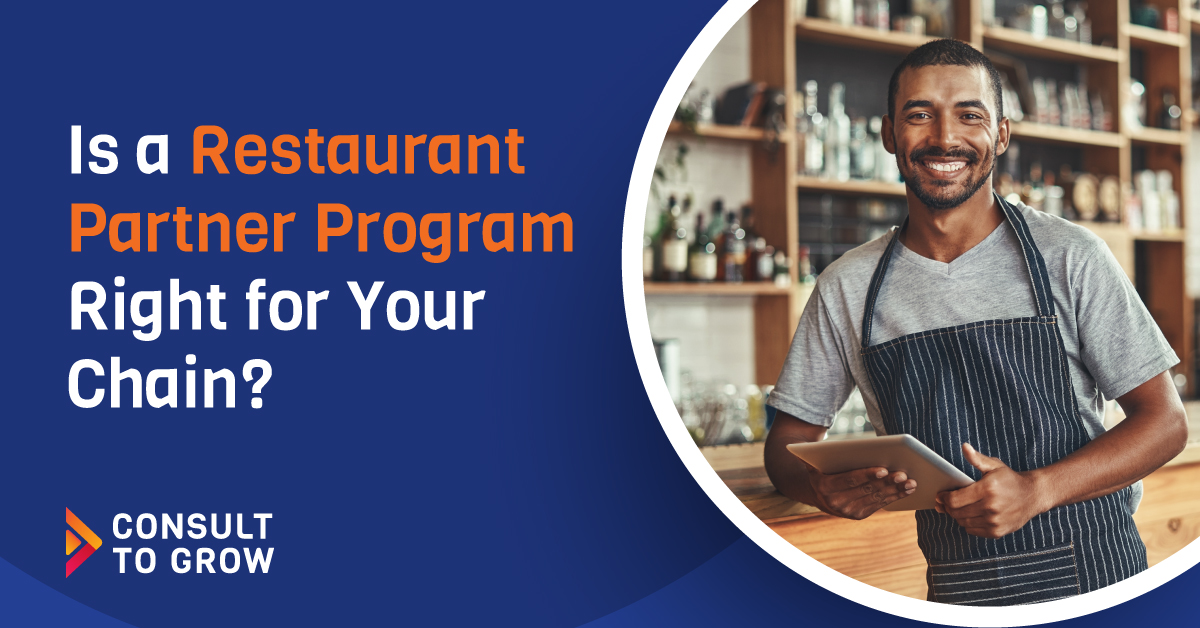 Managing partner, operating partner, restaurant partner, and, sometimes, franchise partner, are all variations of the same concept: a program for elite restaurant general managers who have completed extensive training and consistently deliver exceptional financial and operational results. These elite operators (partners from here on out) are richly rewarded with greater pay and operational autonomy. 
In these programs, partners are typically employees of the restaurant chain. In some cases, like at Chick-fil-A, partners are actual franchisees of the business with less favorable business terms than a traditional franchisee; however, they have much higher compensation packages than a traditional general manager.  Some programs require the partner to make an up front equity investment and others do not. In all cases, partners receive industry leading compensation through a mix of profit sharing, long term incentives and unique perks. 
Partner programs are used by restaurant brands for a variety of reasons, including to attract and retain the very best talent, increase the quality of operations, align general managers to drive sales and profits, and support brand unit expansion. Because these partner programs often introduce long-term incentives paid out over three to five year increments, one of the strongest benefits they offer is management stability. The ability to retain managers in the same position and in the same restaurant over a long-term period creates a tremendous competitive advantage. 
TDn2K People Report recently cited rising turnover among restaurant managers. According to People Report's member companies, "the most effective retention strategies implemented in the last year fit into one of three categories: adjusting compensation for the target group, improving restaurant manager engagement, and providing employees with more training and development opportunities." And effective partner programs combine all three strategies. 
Luring operators away from restaurant brands with operating partner programs is a tall order.  Seasoned restaurant recruiters know that persuading a general manager away from companies like Chick-fil-A, Outback, Texas Roadhouse and others, with operating partner programs is rare, if not, nearly impossible. 
However, operators can compete with these programs and thrive as a result.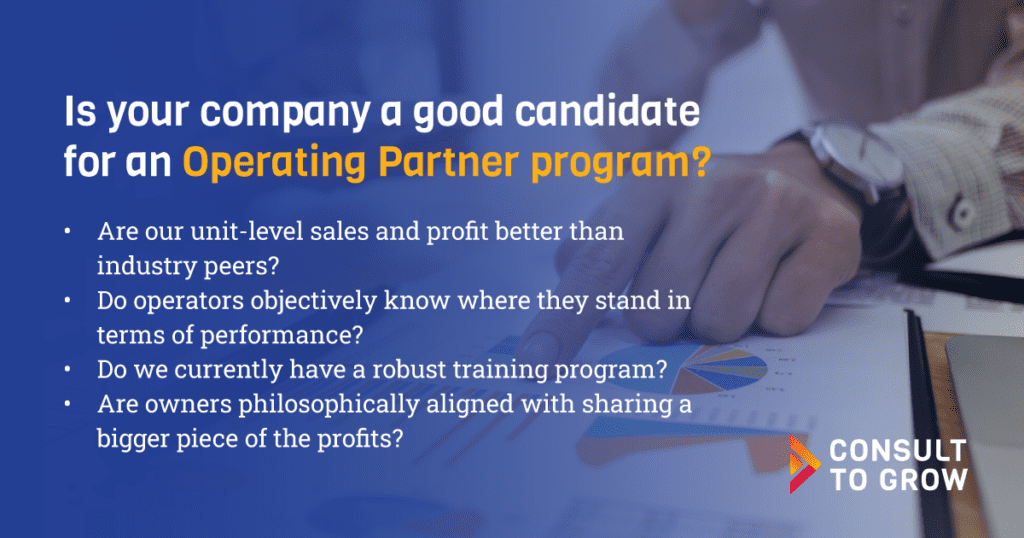 Companies who want to compete for best-in-class general managers are often tempted to jump right into developing their own partner program thinking "if you can't beat them, join them!" If that is you or another leader within your business, consider asking the following questions:
Are our unit-level sales and profitability above-average compared to industry peers? To offer your managers best-in-class compensation, you'll need above-average financial performance. Typically partner programs don't fit concepts with below-average financial performance or average unit volumes below about $2M. Instead, focus on investments to improve sales and profit like refining manager bonus programs, improving operations, and finding innovative ways to market your business. 
Do operators know how they compare to each other across restaurant key performance indicators? Unless you plan to have every general manager be part of the partner program (which is not recommended), you will want to be able to objectively identify the top managers to receive an invitation to the program. The best way to do this is developing and implement a unit-level scorecard inclusive of financial, operational, customer and people data points. 
Do we currently have a robust training program for all hourly employees and manager positions that can be expanded on for selected partners? If not, there might be more return on investment on providing training essentials to all employees and revisiting the idea of a partner program later. 
Are owners philosophically aligned with sharing a bigger piece of the profits? It can be extremely difficult to calculate the ROI of a partner program because the life span of any test group is over many years and many different factors play a role in the results of a restaurant. For partner programs to flourish, ownership should be aligned to the program as a philosophy.  
If you answered "yes" to the four questions above, you are likely in a good position to design and implement a partner program. Start thinking about how you want to structure the program, how general managers can become eligible for the program, and how you want to train and compensate participants and partners who keep their opportunity to remain in the program over time. If you have multi-unit managers, be thoughtful about how increasing general manager compensation will put upward pressure on above-unit compensation. 
If you answered "no" to some of the questions above, try not to be disappointed for too long. The questions can also be the path toward solutions. Strong training programs, bonus programs that drive top-line and bottom-line performance, unit-level scorecards and ownership alignment are all part of the journey to become a more robust restaurant brand. Chains like Chick-fil-A, Outback, and Texas Roadhouse have been on that journey for decades. And it has worked wonders.
Jamie Griffin is the Founder & Principal of Consult to Grow. He has nearly 20 years of experience in restaurants working in multiple facets of a high-growth quick-service restaurant chains.  He and his firm specialize in helping restaurant chains improve, scale and grow their businesses through better strategy, people, systems and processes. 
Originally Published on QSR Magazine here.
Consult to Grow® provides various tools and services to help you develop people strategies to grow your team.  We can expertly assess your HR infrastructure, develop custom Employer of Choice strategies, facilitate leadership meetings and retreats, help you design bonus and incentive programs, and design managing partner programs.  Ready to get started?