Being Sales Driven & Profit Smart is part of my "restaurant DNA." I often use the term assuming other people know exactly what I mean. Given Sales Driven & Profit Smart isn't a term you might learn about in business training, I wanted to explain the concept and nuances behind Sales Driven & Profit Smart in a way that helps you maximize the financial potential of your restaurant.
Being Sales Driven & Profit Smart is a guiding principle that can transform your restaurant business and accelerate growth. The more your restaurants cash flow, the faster you can grow, and the more your company will be worth to potential investors. Let's explore what Sales Driven & Profit Smart means and how you can refine your approach to management, cost control, and team engagement and ultimately grow your top and bottom lines.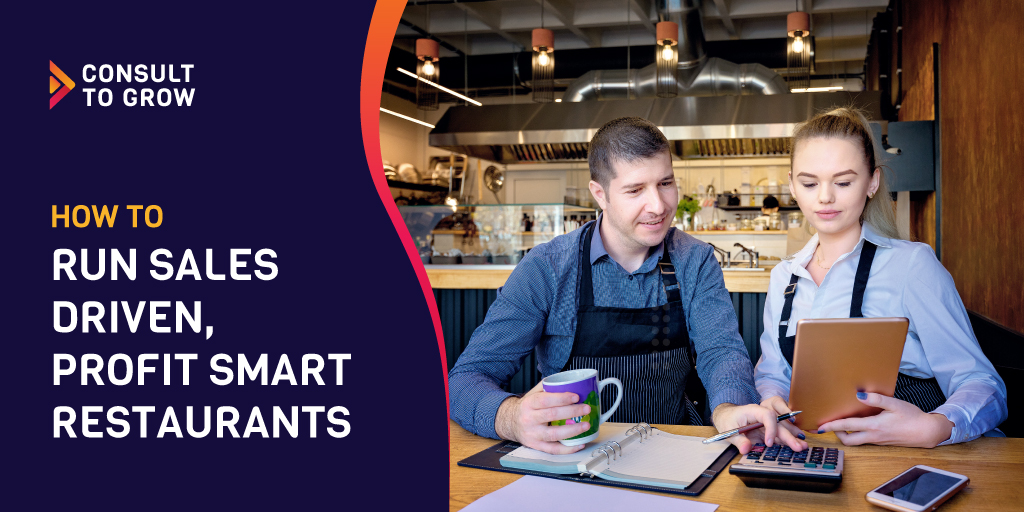 What does
Sales Driven & Profit Smart

even mean?

Sales Driven, Profit Smart is balancing top-line and bottom-line interests. All too often, restaurant operators focus just on driving top-line sales or bottom-line results. Focusing too much on the topline might cause the business to spend needlessly down the P&L and miss out on flow through. Focusing too much on the bottom line might create higher percentages of overall profit at the expense of the bottom line.

Think about it this way:  do you want (a) a smaller slice of a bigger pie, (b) a bigger piece of a smaller pie, or (c) a bigger slice of a bigger pie?  Being Sales Driven & Profit Smart is about getting a bigger slice (profit margin) of a bigger pie (top-line sales)!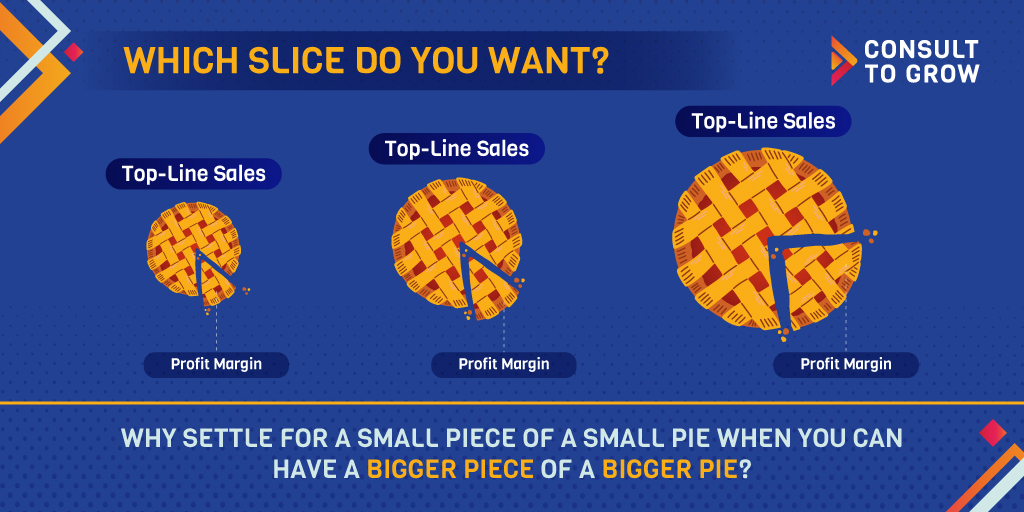 Food Costs
Unless your business competes purely on low prices, you want to provide your customers with the highest quality products. Restaurant managers focused on delivering only profit might cut corners to save on costs. This could look like substituting items with lower-quality ingredients, shrinking the portion size, or serving stale products to your customers. That manager might deliver on their food costs but miss the mark on generating raving fan customers. Likewise, restaurant managers can be too focused on making the customer happy and provide them with too big of portions or easily offer otherwise unnecessary discounts. The key is to train and condition your managers and team members to be cost-conscious without sacrificing quality. Given the thin restaurant margins, we need to get the last drop out of product but not in a way that impacts the customer's experience.
Labor Costs
Being Sales Driven & Profit Smart concerning labor means ensuring restaurant managers are not under-laboring (and losing sales) or over-laboring (and losing profit). Beyond setting and hitting labor targets, restaurant managers should use their available labor to care for customers, keep the restaurant clean, and take care of the tasks needed to execute optimally. Managers should ensure labor is used productively so there is little to no "leaning against the wall time."
Don't let restaurant managers make short-term decisions at the expense of long-term goals. Restaurant managers often miss labor on their slow days (early in the week) and then try to make up for it on their busy days (later in the week). All this means is that you won't have the labor in the restaurant to take care of customers when they are at their peak, and the experience the customers will get on those busy days won't make for raving fans!
Other Costs
It's easy to focus on Food & Labor Costs, given they are two of a restaurant's most significant expenses. However, there are many other controllable items on the P&L, and they can impact the profitability of your restaurant(s). Controllable costs are expenses restaurant managers have control over and have the power to increase or decrease. Just like with food and labor costs, you want to consider how your restaurant managers' decisions can help your restaurants be sales-driven & profit smart.
Restaurant managers focused on delivering profits only might skip preventative maintenance. Also, they might under labor their restaurant in a way where equipment isn't kept cleaned and maintained. At the higher level, restaurant companies might not invest in their furniture, fixtures, interiors and exteriors in a way that reflects positively on their customers. The older a restaurant gets, the harder it is to make it look clean – even when it is. Restaurant managers hyper-focused on sales might try to keep their restaurant "looking brand new." This looks like quickly replacing equipment that could have been repaired, causing R&M expenses to rapidly escalate.

Team Engagement
Think of a restaurant company that has the very best team members. You're thinking of a company that has a great company culture that invests in its team. Restaurant managers focusing on profit margin are likely looking for the least experienced talent, offering them the least training to get by. For the cost-conscious manager, team member turnover is just an ordinary part of doing business in the restaurant industry. All that comes at the expense of the customer experience. Sales Driven & Profit Smart companies invest in hiring the best people, providing them with excellent training, and creating a winning culture. Some people think it means they pay top dollar – but in my experience, that's not true. My recommendation is to compete on culture, safety, engagement, and opportunity over pay.
Putting Sales Driven & Profit Smart into Practice
Embracing the Sales Driven & Profit Smart philosophy requires an integrated approach that is part of your restaurant training and operations. Here are three steps that will help you successfully implement a Sales Driven & Profit Smart philosophy:
Data-Driven Guard Rails

.  Leverage data to make informed guidelines for restaurant operations: (i) what are the proper labor ranges for different sales volumes, (ii) are your opening hours too long, too short, or just right, or (iii) do you have R&M hot spots that need to be addressed?

Empower Your Team

. Equip your restaurant managers and team with the knowledge to make decisions in the moment that align with the Sales Driven & Profit Smart approach. Ensure you're teaching about being Sales Driven & Profit Smart, especially around cost management. Foster a culture of accountability and innovation. You'll always need to work on driving sales and managing costs.

Keep Customers at the Center

. Without customers, we can't be here. Remember that our most valuable asset is a happy customer who will rave about you to others. Prioritize their satisfaction while still being mindful of cost-efficiency.
Conclusion
The restaurant industry is dynamic. Success hinges on a delicate balance of various factors. That's why being Sales Driven & Profit Smart emerges as a guiding principle that can steer your restaurant toward sustained prosperity. Striving for a bigger slice of a bigger pie encapsulates the essence of this philosophy – achieving higher profit margins through increased sales. By seamlessly integrating sales growth and profit optimization, you can carve a path to triumph while ensuring your restaurant's financial health remains robust.
Read More:
About Consult to Grow®
Consult to Grow® always wants our clients to prioritize sales generation while strategically managing costs to maximize profit. We advise restaurant owners, founders, and operators strategically to level up restaurant businesses. Ready to get started?