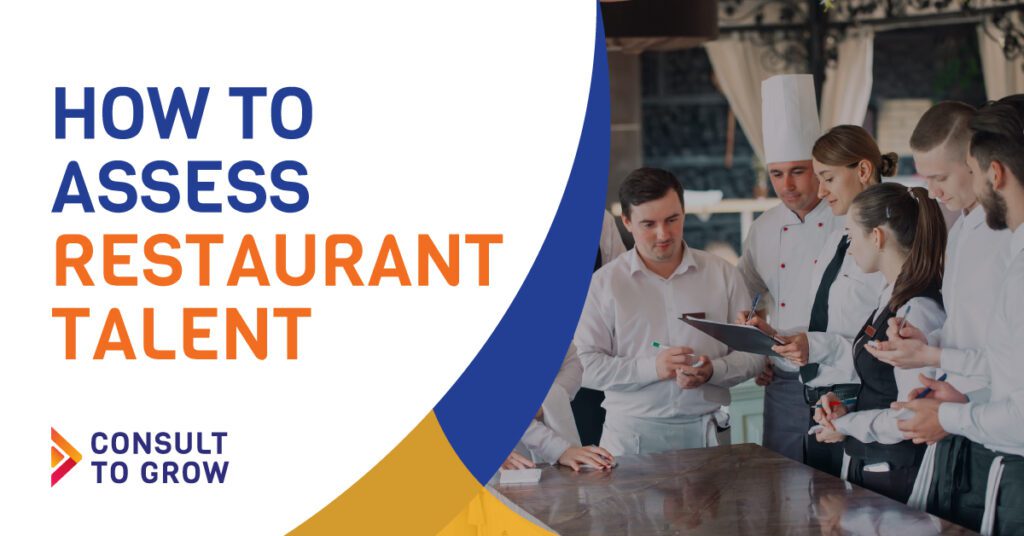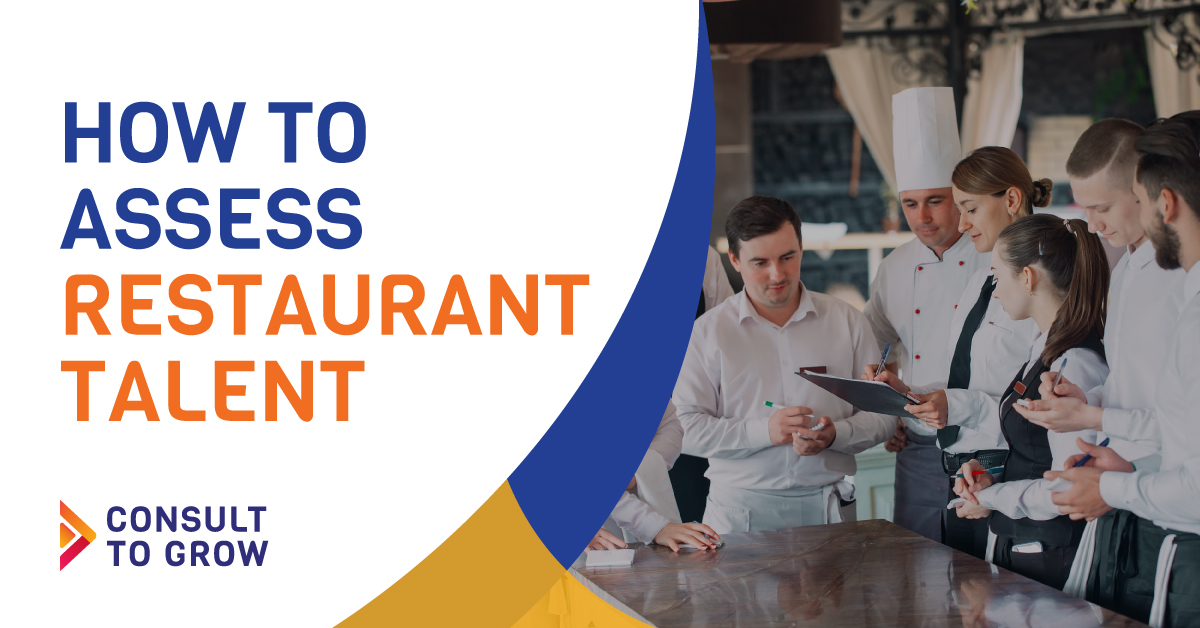 Company-wide performance is highly dependent on restaurant-level shift leaders and the managers above them running high-quality shifts that ensure operations meet or exceed: operational standards, commitments to the team and customers. Restaurant groups are only as strong as the weakest shift run in the business, which makes assessing restaurant talent, especially at the management level, crucial. 
In this post, we share insights into the how & why of assessing restaurant talent and succession planning for growing restaurant groups. We'll cover succession planning for restaurant owners looking to sell or transfer their business in a later post.
Typical Consequences of Not Assessing Talent
Key roles may be unfilled for long periods of time.  
Rush hires are required to fill positions.  
Replacements are less successful.  
Higher turnover among high performers.
Lack of bench strength to manage and grow.
Complaints from internal candidates about promotion decisions. 
Who to Include in Assessing Restaurant Talent  
The leadership team, head of operations and all multi-unit managers (if you have them) should continually train, coach, supervise, and evaluate unit-level managers who may at any time have the sole-responsibility to run a shift solo. They should do the same for every manager in the organization above that management level – typically the shift leader or shift manager.  
Objective Talent Assessment
It is important to assess restaurant talent objectively without playing favorites. Objective evaluation methods may be simple or complex, and may vary based on the organization's strategy. Smaller, less complex, organizations may rely on a focused evaluation method based on rating scales and observations, while larger, more complex, organizations may rely on a series of data points aggregated from human resource, operational, and financial feedback.  Mature organizations will focus on management stability, while high growth organizations will focus on management readiness.  
Consider and customize the three objective methods for assessing restaurant talent outlined below:
Method A: Basic Evaluation
Stable organizations with less complex needs might prefer to use a more basic process. In a basic talent assessment, each assessed team member can fall into one of just a few categories: High Potential, Solid, Needs Development, and At Risk. Though simple, this quick method allows the heads of operations to quickly assess the quality of people currently in a position. This is also an easy way to get started with assessing talent without making the process so complicated it never gets done.
In these organizations:
high potential team members would be considered "promotable"
needs development, and at risk team members would be subject to intense coaching, training, and development
Method B: The 9 Box
The performance and potential matrix (9 box model) is one of the most widely used tools in succession planning and development. The performance and potential matrix, commonly referred to as "the nine box", is a simple, yet effective tool used to assess talent in organizations. The process assesses individuals on two dimensions: past performance and future potential. The X axis (horizontal line) of 3 boxes assesses leadership performance and the Y axis of 3 boxes (vertical line) assesses leadership potential. A combination of Y and X axis makes up the box within the grid that the leader or high potential individual contributor is placed.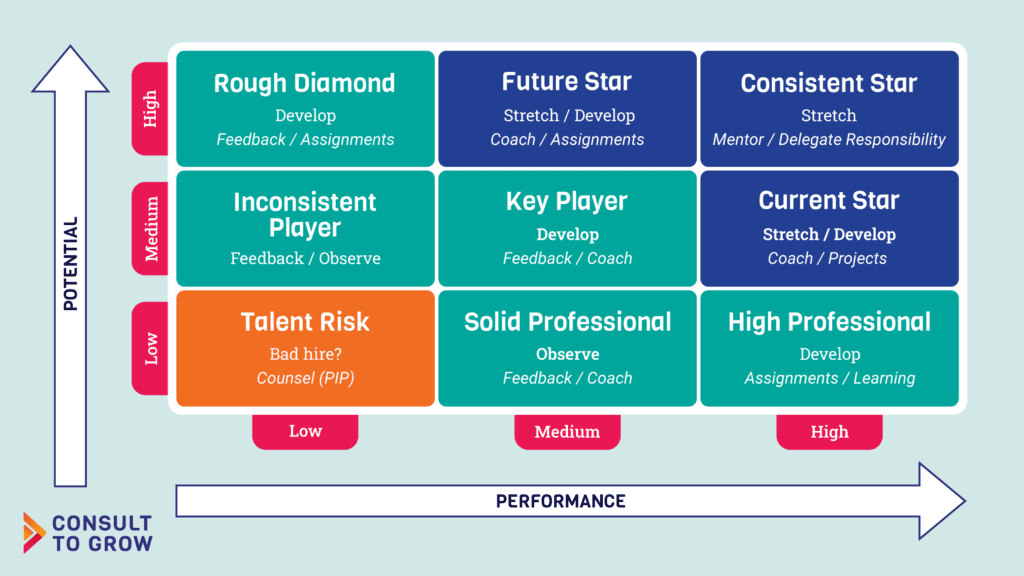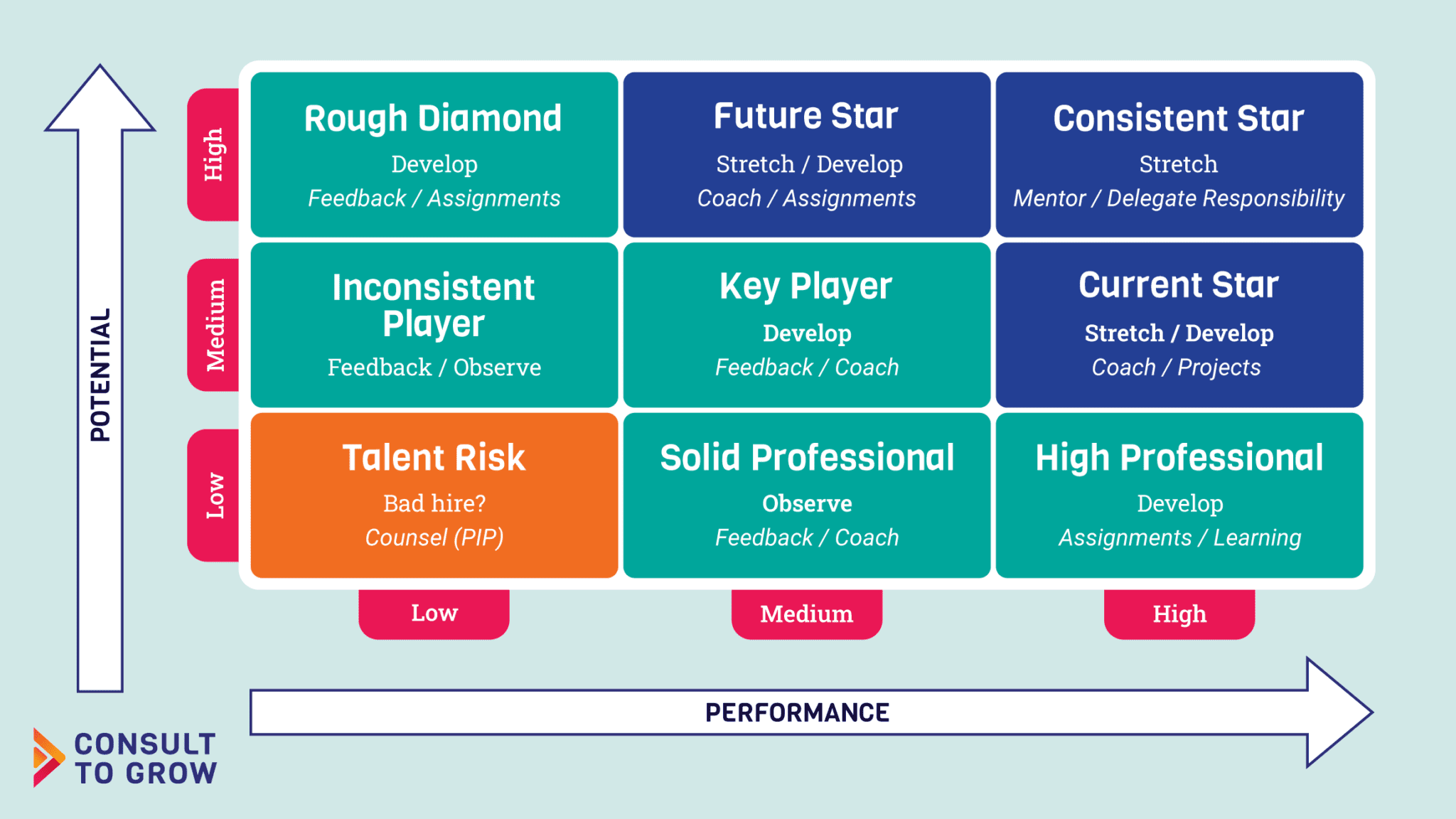 Method C: Readiness Levels
High growth organizations with higher demands for internal promotions will often focus on individual readiness to move to the next level. Organizations with the time or desire could assign individuals both a 9 box rating and a readiness level assessment. Here is a sample list of readiness levels and their descriptions.
| | |
| --- | --- |
| Readiness Level | Description |
| New in Position | Recently Hired. Currently being trained. Too soon to assess. |
| At Risk | Has completed training but is considered at risk for demotion or separation. |
| Solid in Position | Has completed training and is solid without potential to be promoted. |
| Ready 12 | Ready to promote in about 12 months. |
| Ready 6 | Ready to promote in about 6 months. |
| Ready Now | Ready to promote now. |
Note: The number of months it takes for a high potential candidate to be ready to promote to the next level will depend on your training programs and development expectations.
Organizational Alignment
Alignment of expectations for unit-level management and above is crucial. All executives, departments, and multi-unit managers should be aligned to some or all of the following:
job descriptions & job tasks,
roles and responsibilities,
authority and accountability, and
hiring guidelines including culture profile, pay grades, selection processes, etc. 
Expectations for the job and performance in the job have an impact on the quality of incumbents in management positions. Having clear alignment throughout the organization will better insure that objective evaluations carry the same weight system-wide.
Restaurant HR Self Audit
If you found this advice helpful, Consult to Grow® also created a complimentary HR audit. Our goal is to help you identify the strengths and opportunities of your restaurant HR practices and documentation. In exchange for 10 minutes, you will have instant access to a custom 10-page report that provides you specific insights. The report goes a step further to help you build a custom case for HR in your business.
Consult to Grow® provides various tools and services to help you develop people strategies to grow your team.  We can expertly assess your HR infrastructure, develop custom Employer of Choice strategies, facilitate leadership meetings and retreats, help you design bonus and incentive programs, and design managing partner programs.  Ready to get started?