COVID-19 cases are on the rise, especially among younger people, creating new complexities for restaurant operators. Consult to Grow® has prepared a Quick Guide and a Detailed Guide for managing restaurant employee COVID positive cases. In these guides, Consult to Grow® helps restaurant owners and operators proactively plan, make fact-based decisions on cases and take swift action.
Note: If you want more content like this, be sure to join our mailing list, follow us on LinkedIn and/or follow us on Facebook.
This 1-Page Quick Guide
The Quick Guide is a kept to a singly page with the critical information you need to plan, decide and act on suspected or confirmed restaurant crew COVID-19 cases. The links within the document can be used to quickly access more detailed information.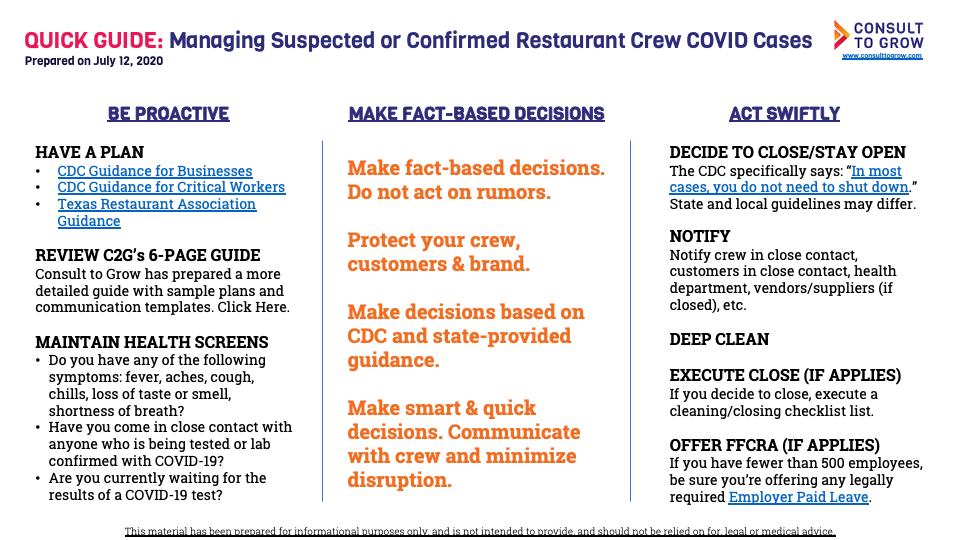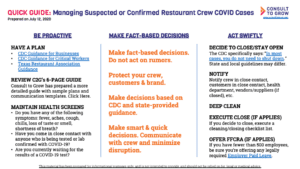 The Full Guide
The full guide is a 7-page PDF including a sample crisis response plan, practicing messaging for restaurant crew, details on how to support crew members with suspected or confirmed COVID-19 cases, a sample note notifying crew members in close contact of someone with a COVID-19 case, and sample notices from other restaurants who have closed or had COVID-19 positive crew members. The links within the document can be used to quickly access more detailed information.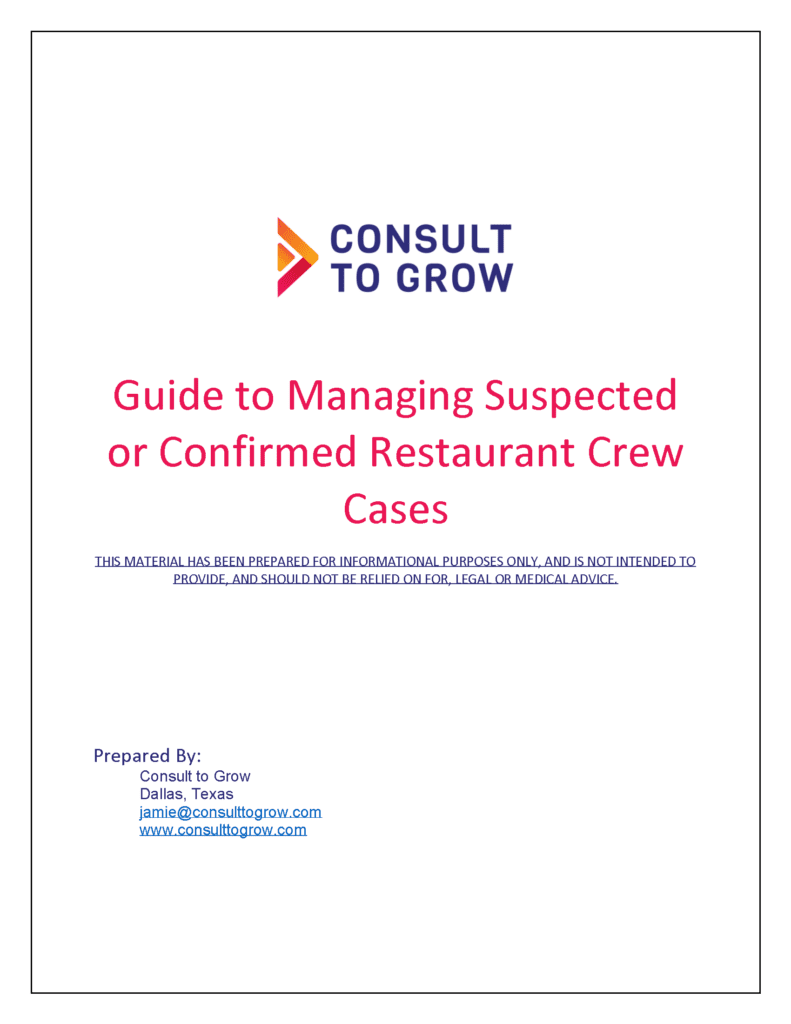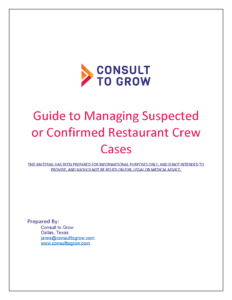 The Need for More Support
Together, these guides will provide you with more than a great place to start when it comes to managing positive COVID cases among your employees. Our goal in creating this is to provide you with an invaluable resource at no cost to you. We are all in this together.
Once you have reviewed our full guide, if you still have questions about managing restaurant employee COVID Positive cases, please contact us via our contact page.
Important Disclaimer
THIS MATERIAL HAS BEEN PREPARED FOR INFORMATIONAL PURPOSES ONLY, AND IS NOT INTENDED TO PROVIDE, AND SHOULD NOT BE RELIED ON FOR, LEGAL OR MEDICAL ADVICE. WHERE POSSIBLE, WE HAVE LINKED TO REFERENCE SOURCES.
Consult to Grow® provides various tools and services to help you develop people strategies to grow your team.  We can expertly assess your HR infrastructure, develop custom Employer of Choice strategies, facilitate leadership meetings and retreats, help you design bonus and incentive programs, and design managing partner programs.  Ready to get started?