What are Total Rewards?
Total Rewards is a more inclusive term for the potential ways you can inspire, engage and incentivize your restaurant team members. At Consult to Grow®, we've adapted the Total Rewards model from WorldatWork for restaurants to include: compensation, benefits, schedule flexibility, training & development, recognition & rewards, and performance feedback. Our model is illustrated at the end of this post.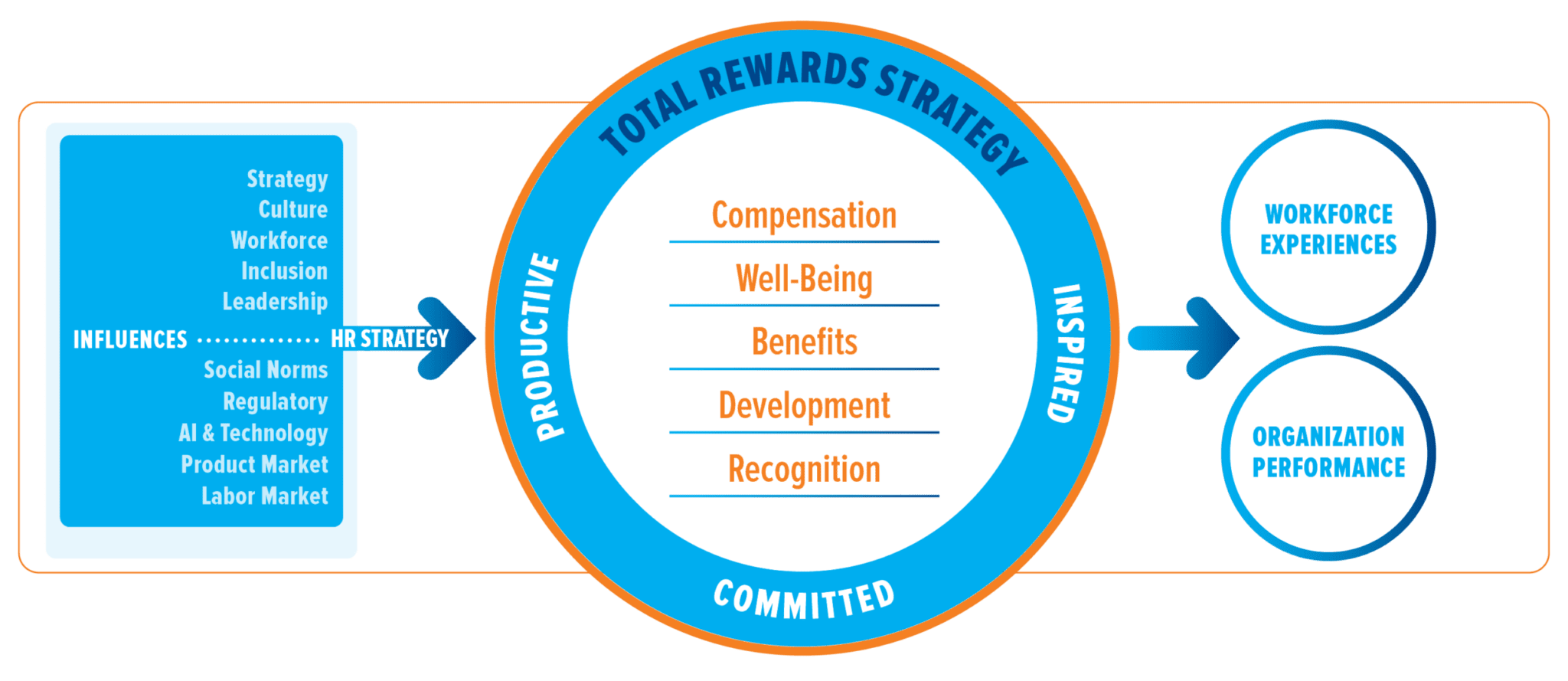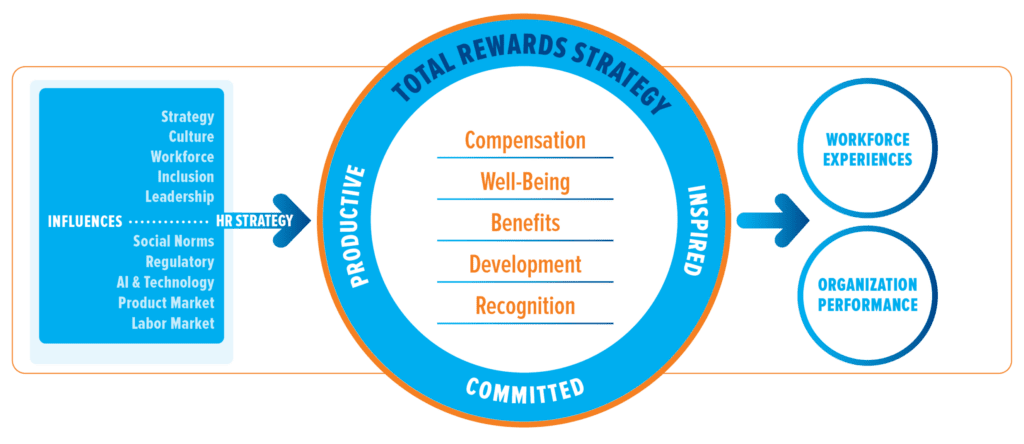 How much do you directly & indirectly spend on these six activities? 
According to Black Box Intelligence, team member costs as a percentage of revenues including salaries, bonuses, benefits and taxes is about 32%. So, if you have a $10M business, you're spending about $3M or more on people! Said differently, about 32 cents of every customer dollar received is being invested in people.  How well are you investing that money? 
What should you buy with your Total Rewards dollars? 
In the example above, there is a reason businesses do not simply spend $3M on hourly wages and salaries alone. Different types of reward dollars should be spent to drive different types of business results. The main results you can drive are:
attracting top talent
retaining top talent
driving operational results. 
Attracting Talent
When your team is out recruiting top talent, especially for key management positions, hiring managers often looking for candidates with few or no "red flags." Candidates are doing the same when they consider employment with your business. Not offering competitive pay, bonuses or benefits are often red flags to candidates looking to level up their career.   
Make sure you offer competitive: base pay, bonuses & incentives, and benefits. If you have any of the following, make sure you communicate the value of:
Being a small or family business
Your reputation as an employer of choice
Advancement opportunities
Schedule flexibility
Retaining Talent
Losing top talent is an expensive problem. Black Box Intelligence has previously reported the cost of hourly worker turnover at about $2,000 per team member and $13,500 per manager. It is common for management turnover to be between 15-50% and hourly team member turnover to be two to three times that, especially for quick service restaurants. Imagine the financial drain team member turnover is causing your business. 
If you want to lower turnover, you can make some of these investments, among others, to better retain top talent: 
Pay progression
Tuition Assistance
Career Development
Separating poor performers
Voluntary benefits like life, vision, pet, etc.  
Driving Operations Results
With the fundamental reward strategies in place, you can focus your Total Rewards investments on buying improved results in your business. The fundamentals help you get and keep great people. Reward programs can and should reward team members for above and beyond performance! 
You can make some of these investments to use rewards to drive performance:
Bonus and profit-sharing plans
Special incentives for targeted goals 
Spot incentives for hourly team members
Contest and games to focus the team on important outcomes
Give your team members the experience you want them to give your guests.
Not every Total Rewards investment is cash…  
We often prioritize financial investments, but often it's the experience we create at work that team members value the most. Here are six time investments to help drive results:
Be genuine and authentic
Say Please!, Thank You!, and Great Job! 
Make an impression on the first & last day
Celebrate occasions & stories in between
Staff your restaurant for success – no one likes to work short handed 
Create memorable experiences on birthdays, anniversaries, and other occasions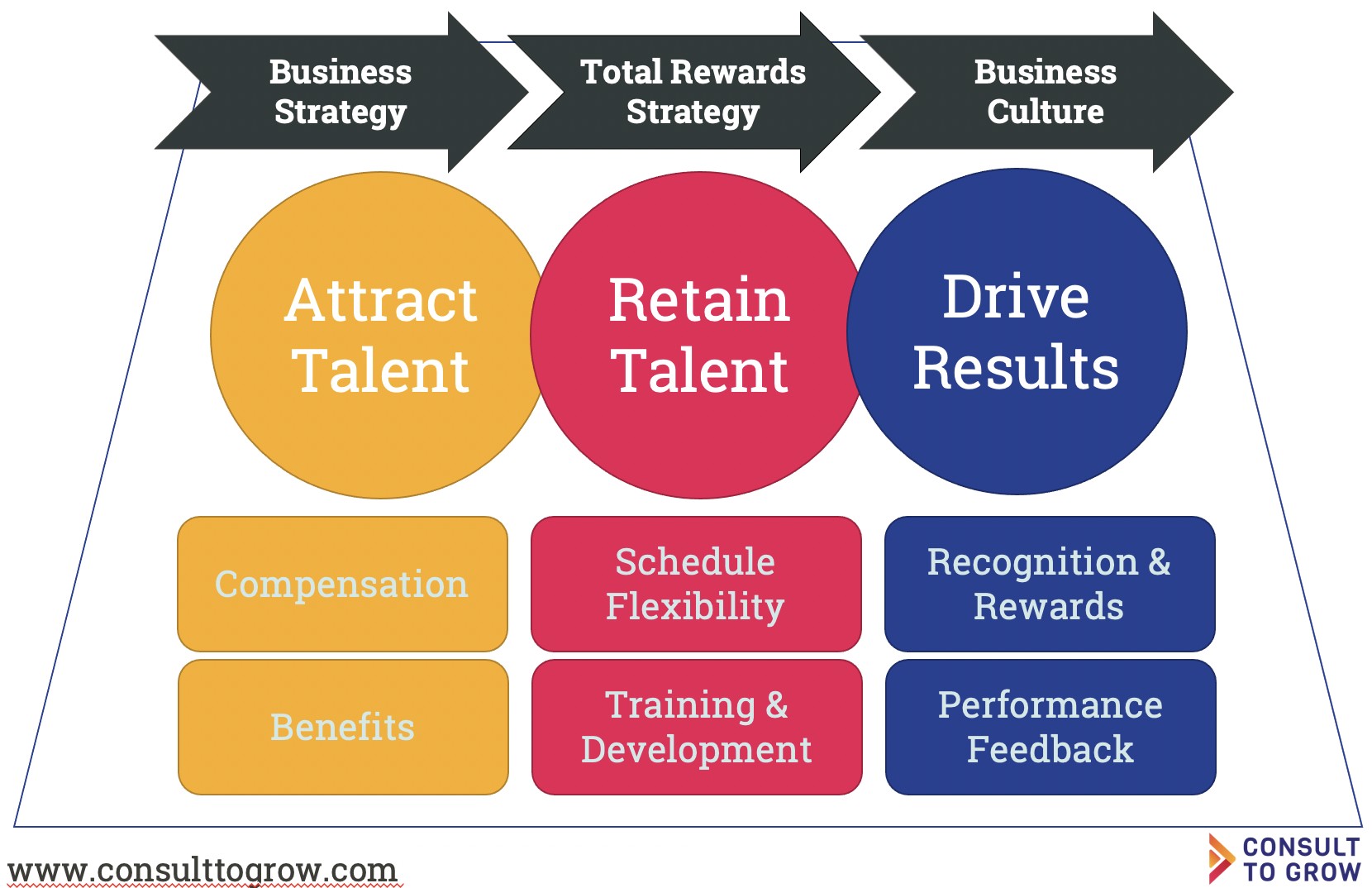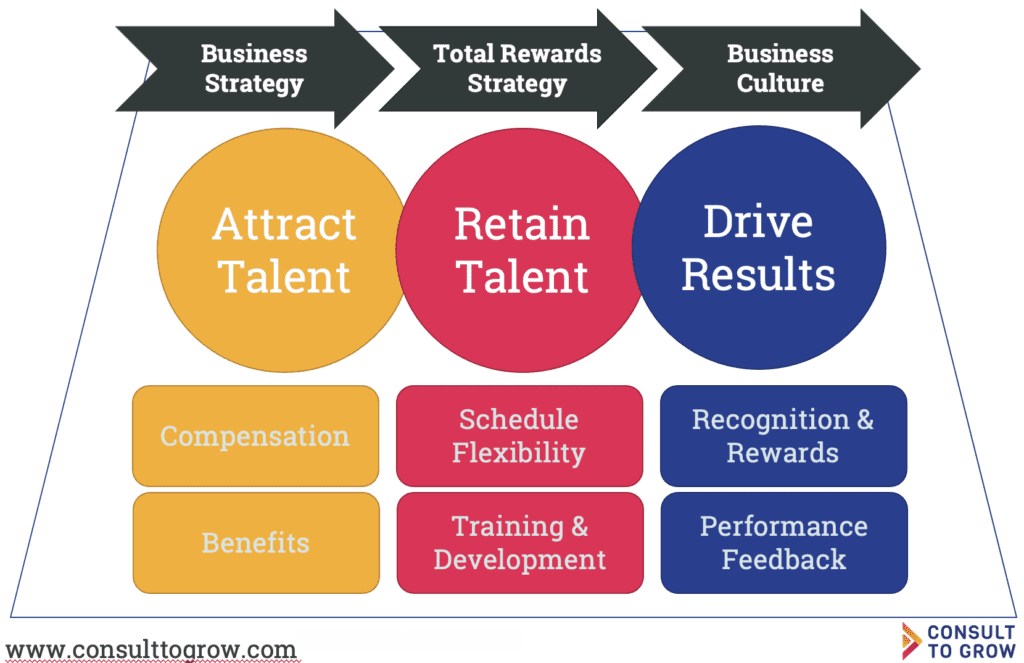 Conclusion
We believe you can and should buy more results from team members. A good total rewards strategy should support your business strategy and culture. Finally, creating and implementing a comprehensive and well rounded total rewards strategy can help you create positive momentum for your business and restaurant-level performance.
Consult to Grow® provides various tools and services to help you develop people strategies to grow your team.  We can expertly assess your HR infrastructure, develop custom Employer of Choice strategies, facilitate leadership meetings and retreats, help you design bonus and incentive programs, and design managing partner programs.  Ready to get started?