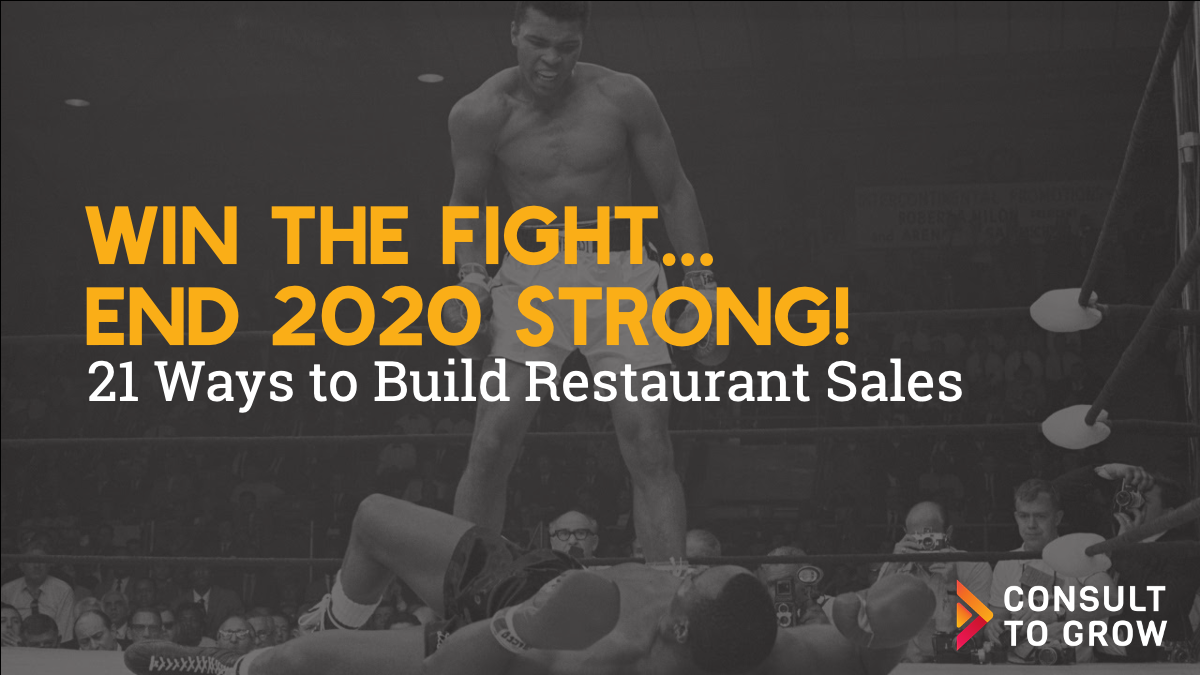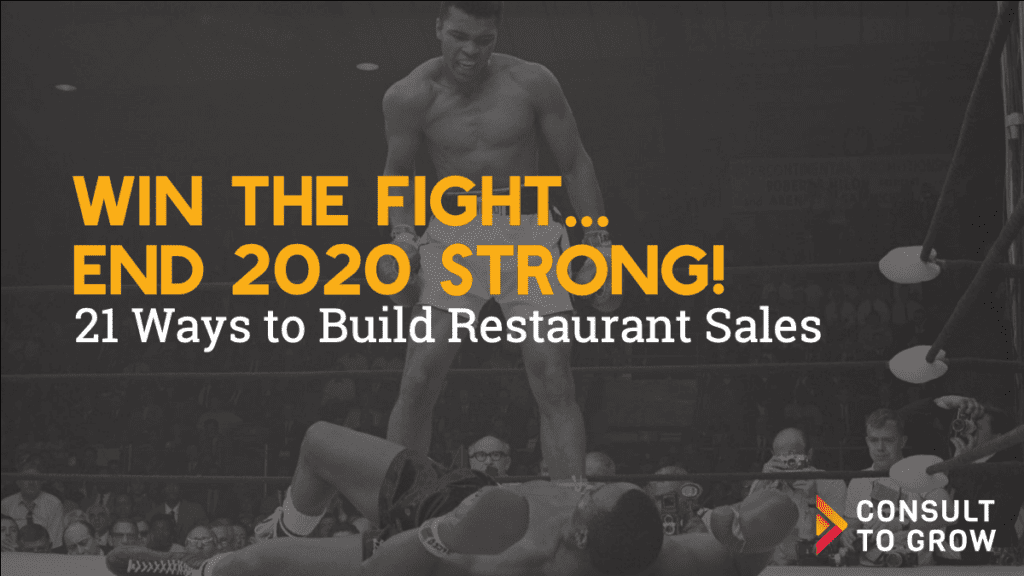 To say 2020 has been an all out brawl for restaurant operators is an understatement. You are here. You made it this far. That makes you a warrior.
The courage it has taken to fight for your business, crew, customers and community is unimaginable. Be proud of yourself and your team. We totally believe you can and should end 2020 on a high by having a clear plan to build your restaurant sales!
It's crazy to think that it just a few weeks, we will be wishing 2020 farewell. You have just 9 more weeks to end the year strong and start 2021 off on a high note.
You have 9 weeks, 64 days, and about 128 shifts in 2020 to go. Make every single one count!
I know you have been busy saving your business and the jobs it provides. You have worked every single day with a scrappy team mastering the five D's: dodging, ducking, dipping, diving, and dodging (a little Dodgeball movie humor). I also know you don't have a lot of "free time" to read magazine and articles. So, to help you, I've put together this list of:
21 ways to Build Restaurant Sales to End 2020 Strong.
Winterize Your Patio and/or Outdoor Space
Warm your outdoor space with portable heaters (if you can find them), built in heating equipment, infrared heaters, portable fire pits, fire bowls, outdoor fireplaces, or maybe a bring your own blanket policy.
Make your outdoor space comfortable by creating the right atmosphere with better lighting, furniture, warmer materials (wood vs metal), decor and landscaping.
Create a safe outdoor space as some people will want to venture out but not indoors. Consider social distancing guidelines, adding physical partitions, managing the flow of staff and diners, and managing airflow.
Don't forget the "Outdoor Experience" by reintroducing the fun, ambience and experience of outdoor dining by offering warmer drinks, warmer foods, and warmer ambience.
Read Katherine Pendrill's article How to Winterize Your Restaurant Patio for Outdoor Dining.
Build Restaurant Sales by Making Holidays a Multi-Day Experience
As customers begin to plan for fall and winter holiday celebrations, the CDC and states will focus on protecting individuals and their families, friends and community. Holiday offers have remained strong sales building opportunities for restaurants (remember Cinco de Mayo?).
Plan holidays being "multi-day" events as offices, family, friends, and communities gather in smaller groups over many different days.
Add fall flavors back to your menu as customer palettes for food and drink crave warmer food, warmer spices, and more nostalgia.
Design Thanksgiving & Christmas Catering Packages now to save people time in the kitchen. Think about how your food and packages can fit your customer base.
Make arrangements to deliver your catering packages directly to your customers' doors. If you're tired of giving third party delivery fees, holiday catering may be the perfect time to setup a temporary delivery services!
Make sure you get the word out about your holiday promotions including Thanksgiving, Gift Cards, Christmas and more.
Cash in on the Busiest In-Person Shopping Day of the Year:
Black Friday
Retail stores shouldn't be alone in offering deals on Black Friday. Think about ways you can encourage customers to safely stop by during their shopping sprees.
Offer your own "Dawn Deal" for customers who plan to start shopping early on Black Friday.
Maximize your proximity to nearby malls and power centers by offering discounted cold and warm beverages.
Be ready and promote a happy hour meltdown by offering guests a refreshing cocktail.
Promote your wi-fi to encourage customers to do their shopping from the comfort of a table with delicious food and drinks and no risk of stampedes.
Don't Forget the Business On-Line Shopping Day of the Year:
Cyber Monday
Given everything happening, it's hard to imagine Cyber Monday won't remain strong (in spite of some headwind with Amazon Prime Day happening later). Build Restaurant Sales by making a strong gift card/gift offer to your customers.
Make a plan to offer gift cards online ASAP if you're not already selling them in restaurants and online. Remember, every dollar in gift cards you sell this holiday season helps you usher in sales in 2021!
Develop a special Gift Card promotion to motivate your customers to buy up more and higher dollar gift cards by offering a Buy $100, Get $20 Free or something similar. Be sure the bonus gift card is time limited (Can't be used when purchased, Good Through 04/01/21, etc.) and be sure the offer is appropriate for your average ticket and profit margin.
Create a contest to drive Gift Card sales by your crew and managers for the top selling server/bartender and for the top selling restaurant (if you operate several or many locations!).
Promote your offer to customers early and through multiple channels. Plan ahead for emails, posts, and even digital ads to drive sales of your gift card offers, especially online. Start promoting Wednesday before Thanksgiving as people go online Friday through Monday.
Celebrate with Small Groups
Though private event business may not recover this holiday season, the desire for customers to gather and celebrate should not. Think about how your restaurant can be the perfect place for small groups to gather.
Be the place to celebrate the holidays. Party rooms may be more quiet. But, friends and co-workers will still be looking for safe and special places to celebrate the season. Make that at a table at your restaurant.
Make socially distant & safe plans to celebrate Christmas Eve and New Years Eve. Special occasions are synonymous with large crowds and celebrations. This year, the large crowd part should be different but it doesn't mean we can't celebrate.
Don't Forget the Reason for the Season
To be grateful for your crew, customers and community. Though you may not be able to host a Christmas party, don't miss the opportunity to show your appreciation to your crew, customers and community in some way big or small.
To give back to local organizations and causes especially to the nurses, doctors and teachers who have had their worlds turned upside down with us.
Consult to Grow provides a variety of services to help you grow your restaurant business including grow & scale assessments, quick build 12 month traction plans, and more. You can read through our core service by clicking here.  If we can help you in any way, please don't hesitate to contact us. 
Never Stop Dodging, Ducking, Dipping, Diving and Dodging!