Hurricane Katrina taught us a lot when it comes to re-opening restaurants and business survival. Following Hurricane Katrina's landfall in Louisiana on August 23, 2005, Raising Cane's Chicken Fingers closed 21 of its 28 restaurants at the time. It wasn't until October 28th, 2005, that all locations were reopened and operating at normal hours. Many of our competitors never reopened.
When Cane's reopened its first location in New Orleans — it was one of only 40 restaurants doing business in the city. The safe closing and swift reopening required incredible coordination and focus. The lessons learned from that experience are captured in this article and in the Hurricane Preparedness Tools & Templates shared here.
Several hurricanes later, safety precautions including restaurant closings and re-openings are rote for some of us. For newer businesses, especially those whose main crisis has been COVID-19 shutdowns, knowing how to navigate restaurant re-opening once the hurricane is past is a confusing prospect. This article aims to help you know what to do and when, and is pulled partially from a free hurricane preparedness tool developed post-Katrina. For best results, we recommend you start by downloading the full toolkit.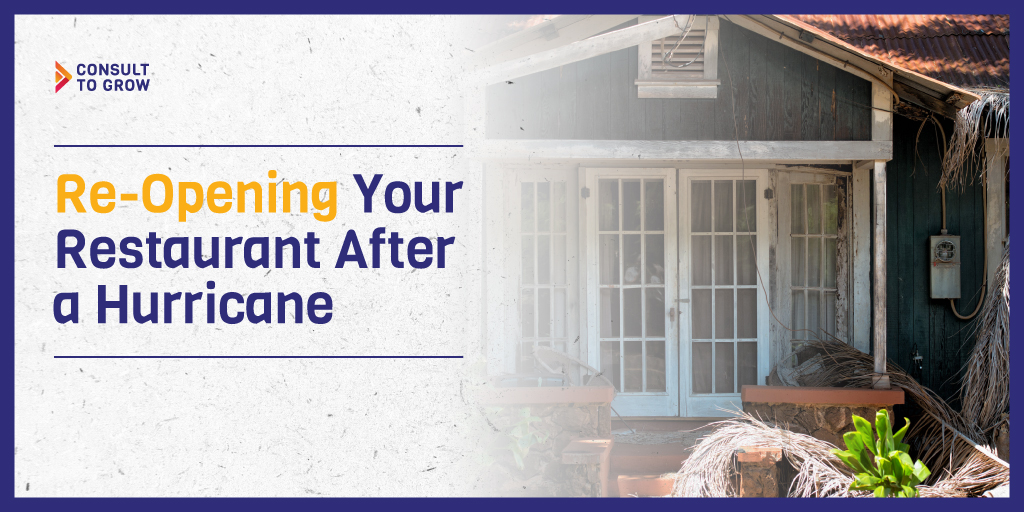 You've Made It Through the Hurricane. What Next?
Once the hurricane has passed, it's still crucial to stay diligent and cautious as you embark on the re-opening process. Be sure to keep in constant contact with upper management and ownership before entering your restaurant, and make sure everyone is on the same page regarding timelines, conditions, and local guidance.
Once you're cleared to enter, the first thing you should do is visually inspect the property to check for dangerous conditions. If there are downed power lines, always assume that wires are live. Do not touch, move or drive over the lines. Contact the fire department and utility company immediately, and then follow their instructions carefully.
Re-opening Restaurants After a Hurricane Is a Cautious Step-By-Step Process
In order to help you make sure you don't miss anything crucial in the reopening process, Consult to Grow® has developed a series of free downloadable checklists (referenced above) to keep you organized. Going forward, this article walks you through the checklists. If you haven't already done so, you can download the full toolkit here.
So, you followed protocol for entry and determined there are no hazardous conditions. Now complete the following checklists and actions:
Post-storm Inspection Checklist
Post-Storm Re-Entry Checklist
Disposal and Documentation List
Request maintenance for items needing repair
Notify your utility company if needed
Be alert for water boil guidelines and follow local authorities' guidance
If there is no damage, continue normal operations
We Wish You the Best With Your Hurricane Re-Opening
We hope your re-opening is smooth, but we understand post-hurricane resets are often anything but easy. That's why we recommend that re-opening a restaurant after a hurricane be done using the buddy system, and everyone involved should be regularly briefed on any updates. This post also contains valuable crisis management information that can help you navigate returning to normal operations after being impacted by a storm. In addition, it has timeless best practices that will put your business on the path back to normalcy.
Good luck with re-opening your restaurants after a hurricane! We wish you safety and success. If we can help you in any way, don't hesitate to contact us at any time.
Consult to Grow® provides various tools and services to help you improve your operational performance as you scale and grow your business.  We can expertly assess your scalability, develop tactical plans, facilitate planning, and more. Ready to get started?