The restaurant business thrives on consistency. For the past 10 years (since the recovery from the 2008 financial crisis) the average annual wage increase percentage has been about 3%. CFOs are asking restaurant operations and people leaders for budget indications for 2023 just as organizations and government agencies are announcing all-time high numbers around inflation, costs, price, etc. Meanwhile, board advisors are asking executive teams to conduct tabletop exercises around a potential recession. As we approach 2023 Restaurant Pay Planning, some things will stay the same and others are more volatile.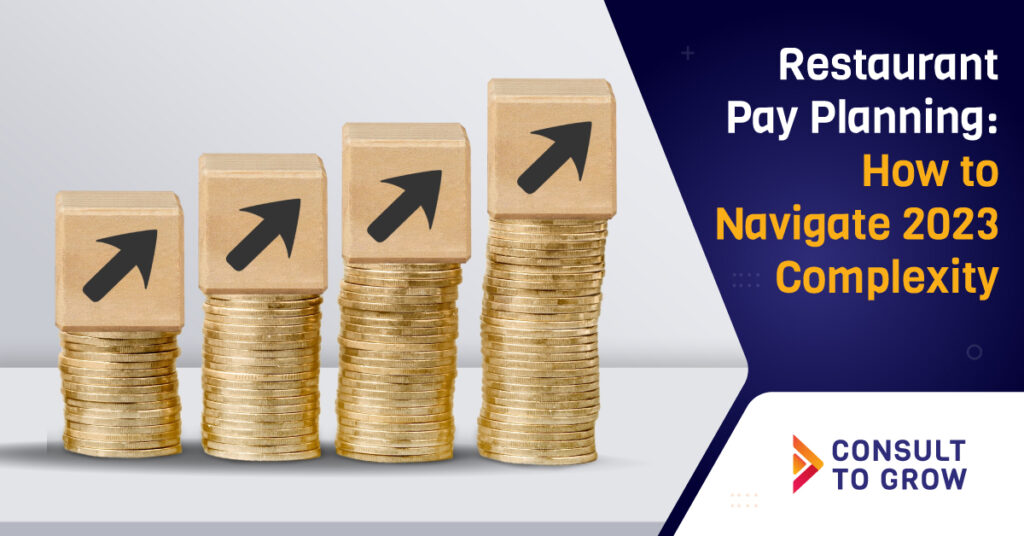 What stays the same:
– Salary budget planning is based on the same factors: cost of living adjustments, equity/market adjustments, and merit increases.
– Managing Total Rewards (inclusive of restaurant compensation) remains a year-round activity focused on putting loyal employees first, reinforcing business objectives, and motivating employees to put their best foot forward.
What's more volatile:
– All current indicators are pointing to higher costs of living and market pricing for the industry which require restaurant executives to take a careful look at 2023 compensation budgets and plans.
– Financial stewards like the nation's top banks and international financial agencies are predicting a gloomy and uncertain future economically.
Focus Your Restaurant Pay Planning on some Key Intentions
When done right, compensation is a management tool and a communication system that reinforces your culture, values, philosophies, business strategy, operational and financial goals, and enduring guest satisfaction. Fundamentally, your compensation and total reward practices should:
Focus on building a "people first" culture
Properly & fairly compensate the team and leaders who drive the performance of your restaurants
Support making your people one of your sustainable competitive advantages.
Don't think of your total reward programs as fixed or frozen. Instead, change your programs whenever circumstances dictate and include your employees in the process. When unfavorable business conditions threaten the financial well-being of your restaurant, take the appropriate steps in a way that focuses on the retention of your employees (as opposed to broad layoffs or keeping every compensation program the same despite circumstances).
Data Puts Upward Pressure on Restaurant Pay Planning
Looking ahead to the fiscal year 2023, we anticipate the target merit increases should be around 4%-5% per employee with the flexibility of some employees receiving more/less than the target and some team members receiving no increase at all. Consider the following: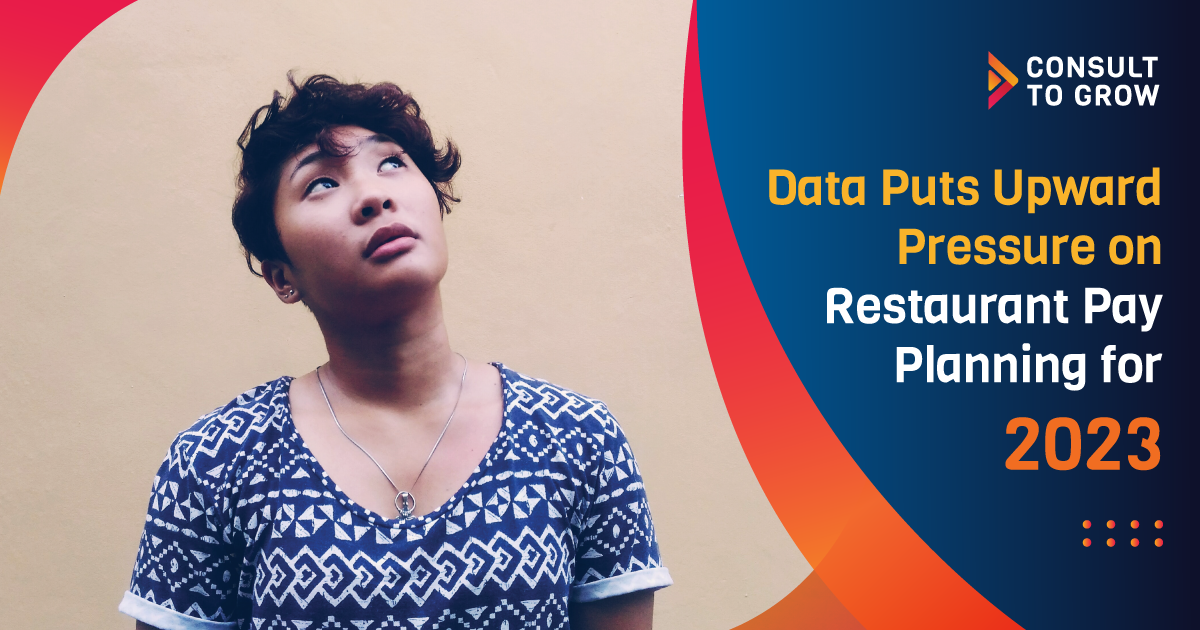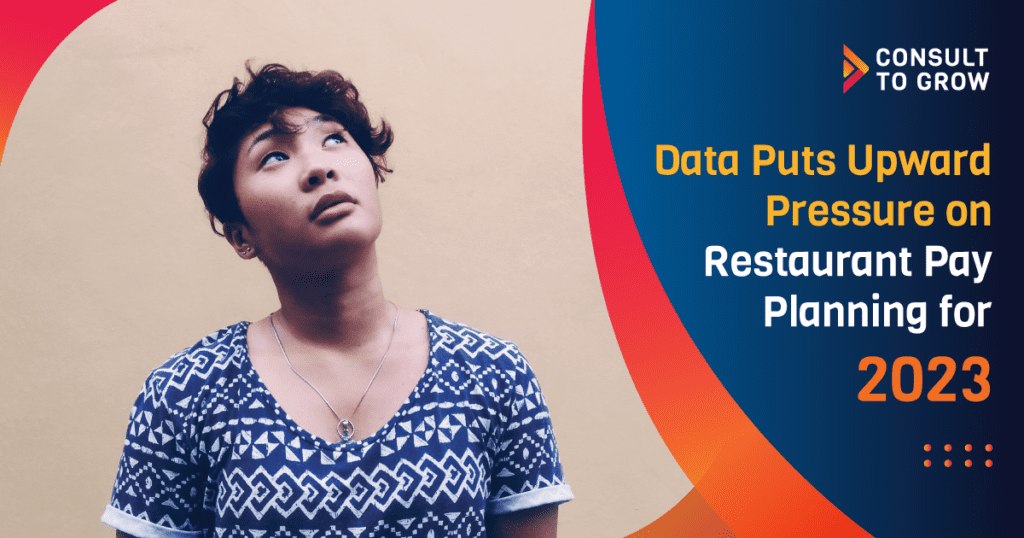 Mercer released a "first look" at planned salary increases for 2023 in their US and Canada Compensation Planning Pulse Survey August 2022 edition with 3.8% forecasted for merit increases and 4.2% in increases (inclusive of annual promotions). The data will get more granular to our industry once they complete the November poll.
The Employment Cost Index (ECI) measures changes in wages, salaries, and benefits for civilian workers (private industry and local government) on a periodic basis. The Bureau of Labor Statistics noted that compensation costs in private industry increased 5.7% for the 12-month period ending in June 2022.  Accommodation and food service saw an 8.1% increase for the same period.
The Consumer Price Index (CPI) program produces monthly data on changes in the prices paid by urban consumers for a representative basket of goods and services. CPI-U (CPI for all urban consumers) increased 8.3% unadjusted for the 12-month period ending August 2022. 
Announced 8.7% increase, which is sizable based on previous years. See: The Hill's " When will the Social Security Administration announce the COLA increase for 2023? "
Social Security and Supplemental Security Income (SSI) benefits for approximately 70 million Americans will increase 5.9 percent in 2022.
Still not sure about our guidance:
Start Planning Your Q1 Compensation Routines Now
As we mentioned before, compensation is a year-round activity which is reflected in the graphic below and our annual HR calendar (which you can download for free at any time). For Q1, we recommend focusing on going into the year with a talent calibration to align with the performance and potential of your incumbent team. Typically, we also take a look at recent new hires and individuals who recently received a pay increase different than employees who worked the proceeding 6-12 months with no adjustment. Additionally, we look at the potential to promote high performers ready for the next level who receive both some cost of living adjustment, some merit pay, and some promotional pay.
Here's a look at a four-quarter compensation planning roadmap: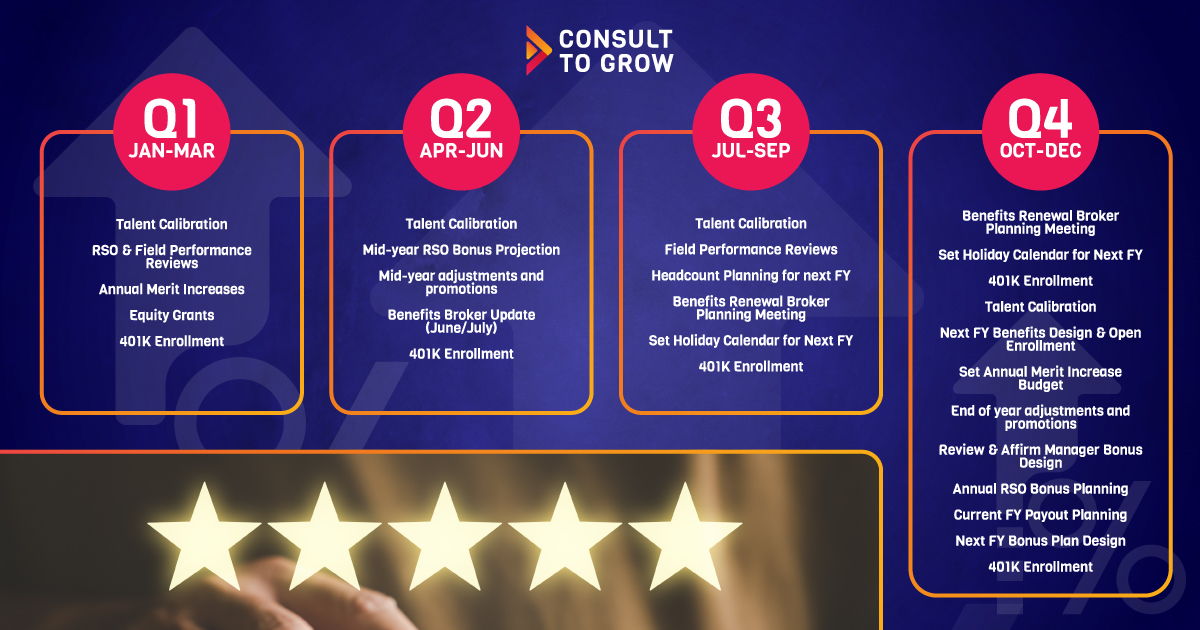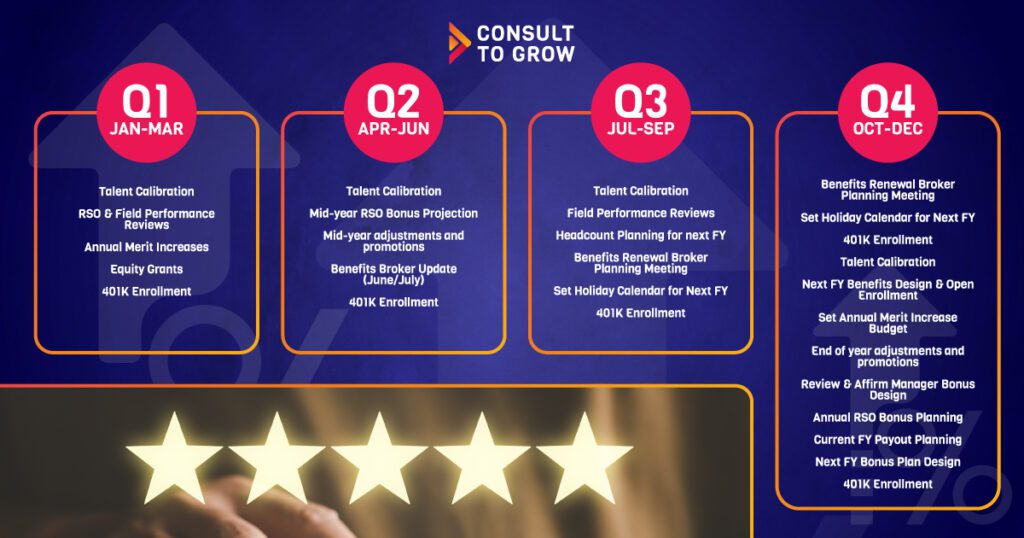 Factor Economic Uncertainty into Your Bonus Programs
Most high-performing restaurant companies have unit-level, multi-unit and home office bonus programs designed to drive incremental financial and operational results and reward contributors who go above and beyond the company's stated job description.
Whether you have an existing program or are considering implementing a bonus program, factor in the uncertainty of the economic market in 2023. Two things we'd be cautious of in your 2023 bonus program design:
Bonuses where the annual budget heavily influences the outcome of the rewards. Budgets are complex in general and even more complex given economic uncertainty that will impact the supply chain, customer traffic, and more.
Bonuses that are predominately driven by sales and/or traffic. While sales and traffic are worthwhile mechanisms to measure the above-and-beyond contribution of each restaurant, in a year with an economic headwind, it might be better to focus on the "journey to sales and traffic" or cash flow through to the bottom line (in spite of variability of sales and traffic).
As you think through your bonus design(s) for 2023, make sure that your design doesn't quickly go from an incentive to a disincentive if the economic conditions rapidly deteriorate. Conversely, don't make the bonus so achievable that you feel disgruntled paying it out should conditions be better than expected.
Consult to Grow® is here to breakdown the complexity and assist you in thriving in reaching your 2023 goals:
Contact us for annual pay planning advice and/or annual incentive plan design for unit-level and multi-unit bonus design. We can also offer you access to market pay data for home office positions (specific to your geography and company size) using Salary.com's Comp Analyst tool for a flat fee per position. Learn more about our Single Job Market Pay Study here.
Consult to Grow® provides various tools and services to help you develop people strategies to grow your team.  We can expertly assess your HR infrastructure, develop custom Employer of Choice strategies, facilitate leadership meetings and retreats, help you design bonus and incentive programs, and design managing partner programs.  Ready to get started?