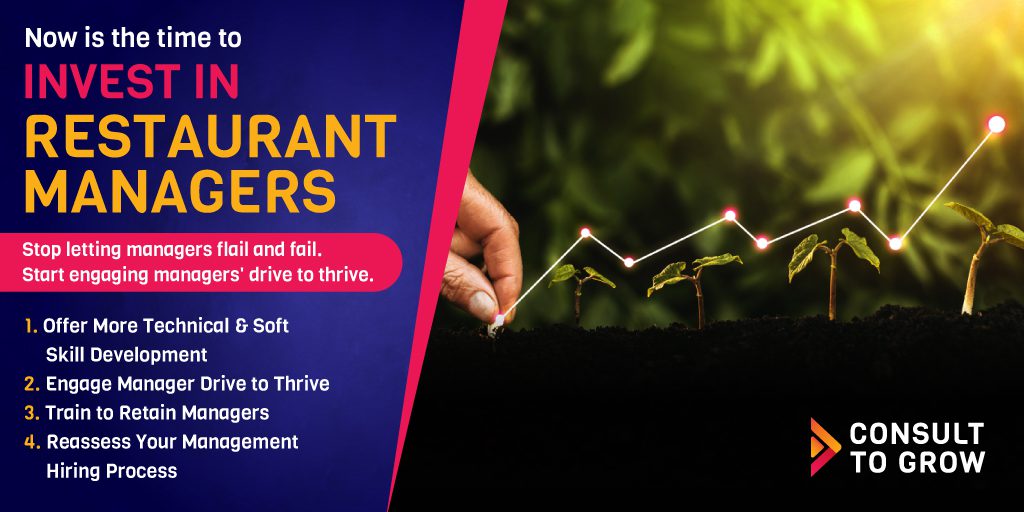 Restaurant manager positions are make-or-break positions for restaurants. Despite that, our investment in management development has never been lower. Prior financial crises and recent COVID austerity have led to diminished investments in time and resources dedicated to developing restaurant leaders. Many of the current leaders were forged in a "Post-COVID" world of impaired training and operations, receiving their training on the job, often shortened out of necessity.
Managers can thrive or survive. We want them to develop into high-performing leaders. Because we have reduced investments in their training, most managers are flailing and failing.
There are multiple factors at play when it comes to restaurant manager success or, rather, the lack thereof. These pain points come with a wealth of industry evidence. Consider the following:
Restaurant Manager Investment is Restaurant Investment
Restaurant managers are the highest correlated factor to restaurant success. Yet the return on investment (ROI) of managers is impaired by having them default to and stuck in their old individual contributor roles. Managers aren't leading or owning their restaurants. They are working in their business instead of on it. Low training and high need result in managers that are overwhelmed and unable to see or articulate the big picture. This, in turn, means employees suffer and leave.
Combine this with a lack of marketplace talent–having an internal talent pipeline is more important than ever.
But how should you invest in your restaurant managers? Follow these four steps:
1. Offer More Technical & Soft Skill Development
While putting the right leader in the right role depends largely on the hiring or internal promotion process, forging a great leader happens with training and support. On-the-job learning isn't enough to develop restaurant leaders. Managers need to know how to do the technical and soft skills of the job Why? Technical experts (software, P&L management, hiring/firing, business processes, etc.) aren't typically present in the restaurant. Additionally, businesses are usually short on soft skill development content such as leadership, communication, and conflict management.
2. Engage Restaurant Managers' Drive to Thrive
Great individual contributors don't necessarily have managerial and leadership skills. Again, restaurant managers need a very different skill set from individual contributors. New managers are generally excited, self-reliant, and want to be successful. Ride that momentum by making sure they can find the tools and resources they need to thrive. You can accomplish this by:
Making sure running the restaurant is an open book test. Think of all the questions a manager may have and document them through written standard operating procedures. That documentation eventually creates a great beginning to training materials. It also allows above-restaurant leaders to focus on leading the business rather than routinely answering simple questions for unit-level managers.
Training on both hard and soft skills. 57% of front-line managers say they learned leadership through trial and error. 35% of new managers quit within the first year due to poor work-life balance. This comes at the result of poor training and lack of supportive technology to ease the requirements of the job, such as scheduling. Greater access to training and support increases employee retention.
Knowing the signs of burnout. Burnout is a state of emotional, mental, and physical exhaustion caused by excessive and prolonged stress. Excessive and prolonged stress occurs when managers feel overwhelmed and unable to meet constant demands. Keep resources for identifying and managing stress easily accessible.
3. Train Restaurant Managers to Retain
Properly training your managers means retaining your managers. Let's not forget that the cost of manager failure is incredibly high. Manager turn has a direct cost. Consider the following graphic from Black Box Intelligence
Also consider that restaurant manager turn leads to team turn, which comes as additional cost. GALLUP shares that, according to the State of the American Manager report,
"Managers account for at least 70% of the variance in employee engagement scores."
[metaslider id="1716″]
4. Re-Assess Your Management Hiring Process
Ultimately, placement of the right manager in the right position comes down to your hiring process. The good news is you can de-risk your management hiring process. By following a step-by-step hiring process interviewing thoughtfully and offering better training and continuing education, you will create a strong candidate flow to have the best odds. And there are plenty of tools to support high-quality hiring practices. Consult to Grow® provides access to the Hollweg Assessment that scores your candidates in independent areas allowing you to determine which applicants have the best fit and potential to excel in their position while reflecting the values of your company culture.
Additionally, Consult to Grow® offers training for restaurant managers that prioritizes their growth into leaders in their positions. In conjunction with Kathleen Wood Partners, we bring over 50 years of restaurant experience to our Restaurant Leadership Accelerator Program. Sign up today and learn how to empower your managers to become great leaders with a focus on growth in your business.
Consult to Grow® provides various tools and services to help you develop people strategies to grow your team.  We can expertly assess your HR infrastructure, develop custom Employer of Choice strategies, facilitate leadership meetings and retreats, help you design bonus and incentive programs, and design managing partner programs.  Ready to get started?